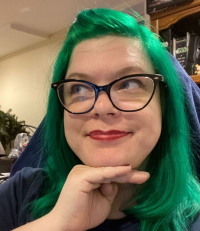 Jen Rose (Schiller) Pendragon
An East Coast girl in love with her cats and her babies. Can't turn down a good bagel or thin-crust pizza.
Feminist who's been told her writing has "harsh attitudes". I don't flinch from criticism--either writing it or receiving it. I'll talk your ear off about "Harry Potter", "Stranger Things", "Agents of S.H.I.E.L.D." or Disney, among many other subjects.
I'm all over the internet; on Twitter, Facebook, Instagram, YouTube and several popular blog sites including MuggleNet and Kotaku.
First runner up in Pitch Week 11, hosted by When Words Count Retreat, for my novel "The Last Stand". Seeking representation.
Resident Artist at Gullkistan Center for Creativity, January 2018.
Resident Artist at Chulitna Wilderness Lodge, September 2017.
Expertise Writing Life, Entertainment, Book Reviews, Mental Health, Parenting, Animal Welfare
Skills Research, Editing, WordPress, HTML (limited), Transcription, SEO, Social Media
Location Northern Maryland, Works Remote